The Budgets Page is comprised of two main sections, Budgets by Cost and Projects.
The "Budgets by Cost" section represents the supply side for the portfolio and is where all budget data can be entered for each time period. Budget data applies to all plans in the portfolio. All cost fields that have been added to the portfolio will appear in this section.

Additional cost fields can be added by selecting the "Add Field" option from the more menu. As portfolio budget data is added, the "Diff" column will automatically calculate the difference between each Costs Budget and amount that has been Allocated to projects in the section below.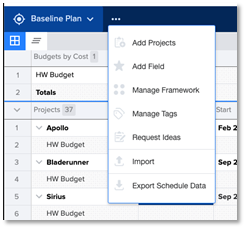 The "Projects" section represents the demand of each project within the plan and enables you to manage each projects status, timing and cost data. There are two types of cost data that can be managed for a project in the Schedule View: Request and Allocated. The Request column represents how much the project is asking for from each cost field in each time period and the Allocated column signifies the amount actually spent for each cost field in each time period. The Diff column automatically calculates the difference between the Request and Allocated columns.
Note: Project Request data can only be modified in the Baseline Plan and Allocation data can only be entered for projects that are set to a status of: Scheduled, In Progress, Completed.