Submitting and Reviewing Ideas
Submitting Ideas
Once drafts are ready for submission, users can click the Submit an Idea button to submit to Portfolio Owners for review.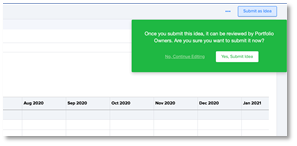 Once submitted, Portfolio Owners will receive an email notifying them that an Idea has been submitted and the Idea will be visible for all Owners and Editors with permissions.
Reviewing Ideas
Once submitted, an Idea will be visible to all Portfolio users with permissions. Until it is submitted, only Contributors to that Draft Idea will know of its existence. Users with Status Editing permissions can change Idea Status to other Status designations. It is not possible to change a project back to Draft Status after it has been submitted or changed to another visible status however both submitters and reviewers can continue to edit the Idea post submission.