Schedule Page Gantt Chart
The bottom portion of the Schedule page is a Gantt chart that helps planners visualize the timing of each project. The Ga Project bars can be dragged, moved to the backlog or moved outside of the planning window. Click on any project bar for a menu to move it to the Backlog or outside of the planning window. By default, projects are sorted by Status. Hover over any project bar for information such as Name, Status, Start Date, End Date and Allocation.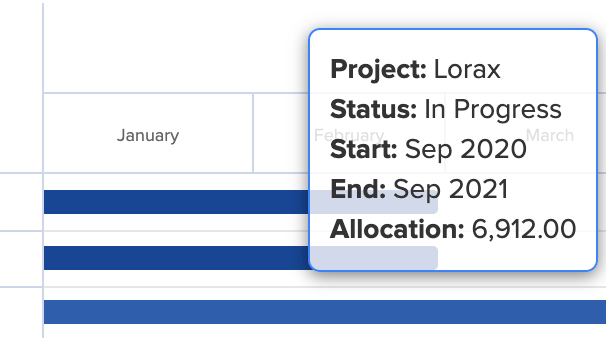 Gantt bars now display between the start and end date for a project rather than when there are allocations.​
Unallocated Backlog projects now display with a gray Gantt bar on the Schedule page. Clicking these bars gives an option to "Send to Scheduled" so quick schedule adjustments can be made right from the Gantt view.​
Projects marked as Completed now display at the top when sorting by status.

​