Decision Lens Accelerate
Overview
A Manage Budgets page has been added into portfolios to enable Owners to add and manage additional budget field information. For now, only a Budget Category field can be added however additional field types will be added soon to accommodate for numeric and text data for Budgets.
Manage Budgets Page
This page is only accessible to Portfolio Owners and provides a place where all Budget information can be viewed and managed.
Budgets can be added from the Add Budget link on this page, and can also still be added by adding a Cost Field to the portfolio.
Users with "simple" use cases can continue to use the application as they currently do and do not need to change their workflow


Add a Budget
Selecting the Add Budget link enables owners to add a budget name, description (optional) and tags (optional). Once Budget fields are created, an associated Cost Field is automatically added so that project requests can be added from each budget.
Budgets will display on the Budget Page in the order they are added. Change the sort order by clicking any of the column headings to sort in ascending, descending or back to original order.
Add a Budget Field
Select the Add Budget Field link to add additional metadata to your Budgets.
For now, only Category Budget fields can be added but additional data types will be available soon.
After naming the budget category field, add the category options and an optional description to add the field to your budget table.
Just as with Project Categories, Category options can be pasted.
Note: import capability is not yet available but will follow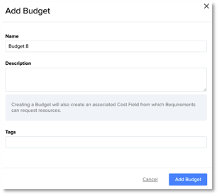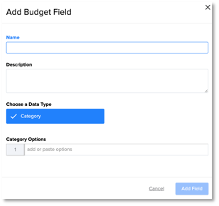 The Budgets Table displays Budgets in the order they were added, however sort order can be changed from any column header.
Search and filter budgets and budget fields from the arrow in each column header in order to narrow budgets and data down to a smaller subset. Reset the data back to all by selecting the "Reset to Default Filters" option at the top of the screen, when filters have been applied. This will remove all filters from all columns and show all budgets and associated metadata.