To add a user to a portfolio, select the "Invite People" button from a portfolios Activity page or select the Add People icon from within the Baseline Plan. The Invite People icon displays on the Summary, Projects and Schedule pages and indicates how many people have been added to the plan.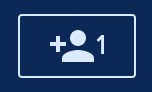 After selecting the above icon or button from the Activity page, select to "Invite People" from the modal and enter the email addresses of the people you want to add to the Baseline Plan. You can include a personal message for added context that will be included in the email each person receives to notify them they have been added. Select to "Send Invites" once all email addresses have been added, and proceed to the bottom section of the modal to set each persons role within the plan.

By default, each person added will be added as a Viewer. This can be changed depending on what permissions each person should have within the plan. Refer to the Portfolio Roles section to read more about portfolio roles. After someone has been added to the Baseline Plan, you will see a link to remove them. Select this option to remove them from the Baseline Plan and portfolio.