Overview
The Manage Users section of the application allows Group Admin users to create, delete, update, and view users. Group Admin users can also view all portfolios within the system. To access Manage Users, click on the avatar link and select it from the menu.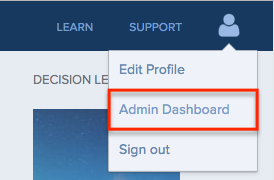 The Admin Dashboard contains charts showing a breakdown of user permissions, user statuses, and recent activity:

NOTE: User's will become inactive if they do not log into Decision Lens (90 days) after the complete registration.
User Administration
On the Admin Dashboard, Group Admin users can:
Change the user's role in the system.
Delete the user. This will remove the user from the system, preventing them from further access to Decision Lens. Any data that has been entered by that user will be retained, and the user will be designated as an unlinked participant.
View all portfolios in the system.
System Roles
Each user in Decision Lens must be assigned a role. Group Admins can change the role of a user by clicking on the user and selecting a new role: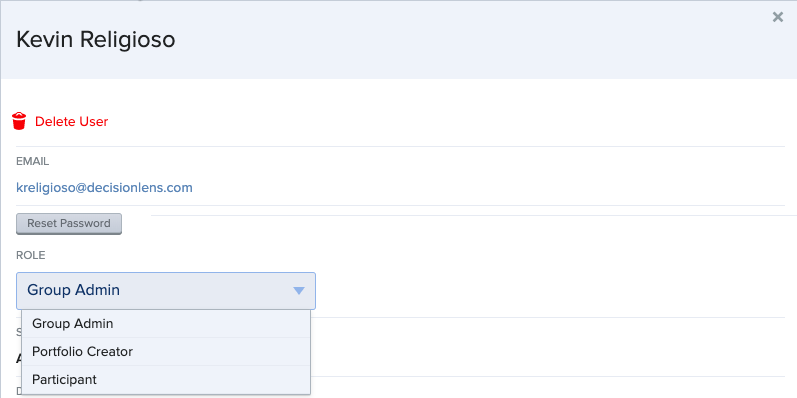 A summary of each user permission is below:
Group Admin: can add new user accounts and can add new decisions and can be invited to vote in decisions.
Portfolio Creator: can add new decisions, and start live decision meetings, and can be invited to vote in decisions.
Participant: can be invited to vote and participate in decisions.
Adding New Users
To add a new user:
Click the Add User button.
Enter the new user's e-mail address.
Set the user's role.
If you wish to add a personal message to the user, check the checkbox and enter your message.
Click the Add Users button.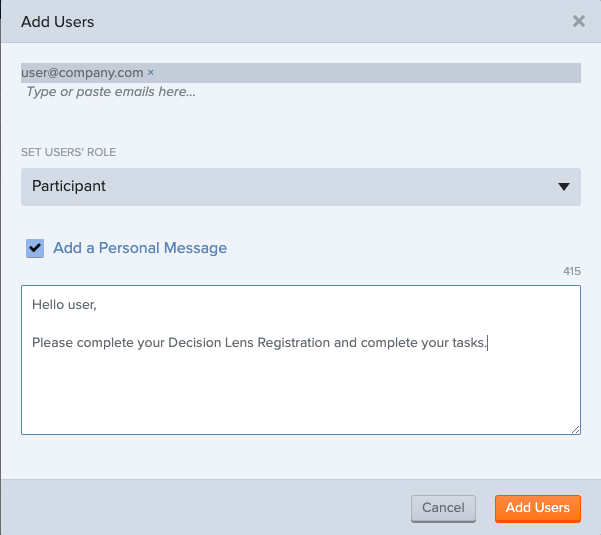 Deleting a User
To delete a user:
Locate the user. (Note: you may search by name or e-mail address using the search bar at the top of the screen.)
Click the user's name.
Click on the Delete User icon.
Click the Continue button on the modal window that appears.