Decision Lens Accelerate - Yearly to Monthly Setting
Set a clean foundation from the start by specifying if your budget is yearly or monthly. ​
When creating a portfolio, a new option to specify Yearly or Monthly budgeting is available​
For existing portfolios, this option will be pre-populated based off the baseline data.​
When Monthly is selected, you can view Budget and Schedule in monthly or view it in yearly as an aggregated total.​
When Yearly is selected, Budget data can no longer be viewed in months.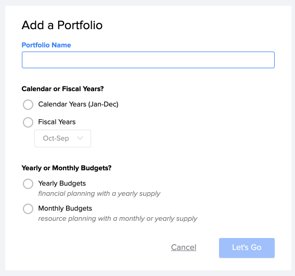 ​