Data in the project table can be sorted using the filter menu that can be accessed from the arrow in each column header.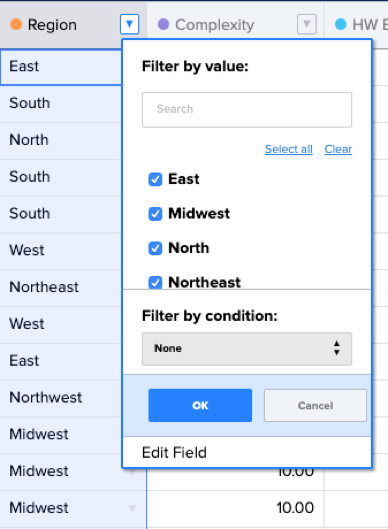 There are two main types of filtering available: Filtering by value and Filtering by Condition. These two filters can be used in tandem.
Filtering by value allows an ability to only display Projects with a specific value. All the unique values for all Projects will be displayed as checked by default. In order to filter by only specific values, click the Clear link to uncheck all options and then either choose value checkboxes individually or search to find the correct value and then click the checkbox to filter. To reset a filter by Value, click Select All to reselect all the Values.
Filtering by condition will allow filtering using more complex conditions to display exactly the desired data. To reset a filter by Condition, click the dropdown and Select None.
Multiple filters can be applied at the same time across multiple fields/columns. When a column is filtered, the filter dropdown will show as blue indicating that a subset of that the projects is being displayed.
If a filter is in place and data is changed that would invalidate the project being displayed (for example if only East region projects are displayed and an East Region Project is changed to West), the updated Project will not be automatically hidden. The Filter would need to be re-applied in order to customize the display.
Filters will be maintained within the browser so that subsequent visits to the Projects page for a given portfolio will load with the filters intact.
FILTER NOTIFICATIONS
Filter notifications have been added to help you know when filters have been applied and help you easily remove all applied filters.
Projects Page​

Clicking the notification banner on the Projects Page will reset back to default. The default view will automatically hide projects in either an Archived or Completed status.

Budget, Schedule, and Spend Plan Pages​

These pages use the Filter & Configure panel to apply/modify filters so the filter ribbon on these pages works a little differently than the Projects Page. Click the filter ribbon to open the filter panel in order to view or modify applied filters.
When filters have been applied, an option to "Reset Filters" is available in the top right of the filter panel. ​
The filter ribbon on these pages will only display when the Filter & Configure panel is closed.